Yes, I know, I know, I owe you a little race report from the Buller Gorge marathon I ran on 11 February… Back in January I wrote about my training and preparation for my first NZ marathon, located on the beautiful West Coast of New Zealand! Here, I'd like to share how it went (better late than never?). Spoiler alert: as per usual in life, things did not go as planned! Yet, even though my first marathon in New Zealand didn't turn out as expected, it was a great experience nonetheless!
Before the marathon
I took a day off on the 10th which was a Friday, because Westport is about a 3,5-hour drive from where we live. Together with two friends, who have run many a marathon in New Zealand before, we made the beautiful trip over to the West Coast. We went quite slow and enjoyed some nice views, as well as a great stopover for food in Murchison at the vegan caravan Zen's Kitchen. Best. Vegan. Burger. Ever!
We were lucky to be able to stay over at friends of our friends that Friday night. We had 3 people in the house running the half marathon, 2 people running the 10K, one of their kids participated in the kids run and I went for the full 42.2K. A house full of runners! Oh, and Xander of course, who was there as support person.
After picking up our start number in Westport, stopping by the opshop (thrift shop) and getting ourselves an ice cream, we went to the house to get ready. Sleeping mats, diner and an early night it was. Unfortunately I slept horribly – as you do, on the night before a race. I was exhausted when I woke up in the morning. And the worst thing was: I started my period! Even though I'm usually fine, I did feel like this was the worst timing ever.
Race day!
We got up very early (5.30ish), had breakfast and prepared ourselves – it was a busy morning in the house. Both buses for the marathon and half marathon left at 7am from Westport. Xander dropped us off and the buses took us up into the Buller Gorge. I felt quite sick but I reckoned they were just nerves. Views from the bus were amazing. Because it was so early still, there was fog all around the Buller River. It was beautiful and felt like we were driving through a mystical place. Lord of the Rings, something like that?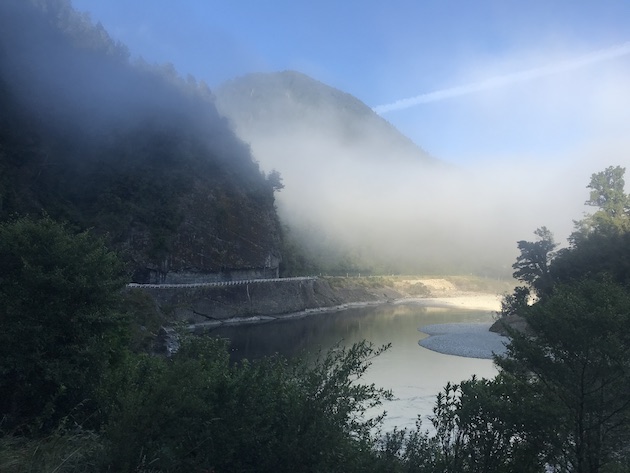 It was very, very cold (about 7 degrees). I was still wearing long sweatpants and a sweater over my running outfit. Unfortunately, we had to leave our bags 20 minutes before the start instead of the 10 minutes that were originally mentioned. I found myself a spot in the line for the bathrooms, of which there were only a few. Shaking and shivering with some other ladies we waited until it was our turn. Just after I went the sign was given that we had to get to the start line and get ready. It all went really quickly and 2 minutes later – there we went!
Running my first marathon in New Zealand
The Buller Gorge Marathon starts at Hawks Crag and first takes you 'the wrong way' (the idea is that you run from the Buller Gorge to Westport, which is a coastal city). The course took us up the Gorge for about 8K. We turned around and went back – same course for another 8K. I was doing quite well, feeling all right, tired, but I was managing and on track. Going along; 10K, 12K, 16K.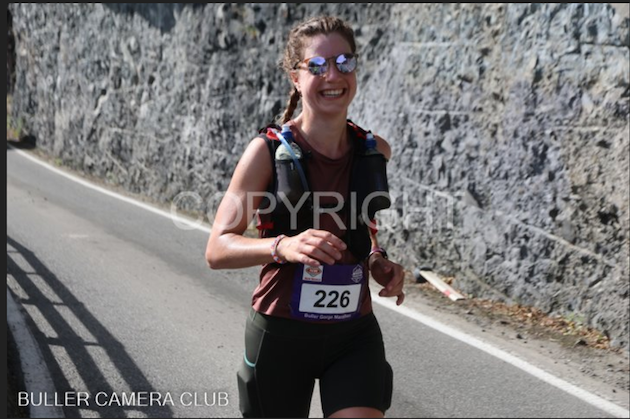 At about 18K, I started to feel sick again – up until then I had been hydrating well and getting in some sugars too. The sun started to shine, the scenery was beautiful and I was enjoying myself, but this pain in my stomach didn't want to leave me alone. It only got worse, until I had to abruptly jump into the bushes (I'll save you the rest of the story). Yet, it took me a while to find a good spot – the Buller Gorge River running down below and quite steep edges, you don't want to mess with safety around there!
Anyway, back on track we were. Still not feeling good, but better than before. However, I lost so much time and I couldn't manage to run faster as my stomach was still so painful. My right hip also started to act up (it was actually my glute med), and I still had about 20K to go..
Breakdown?
I was so disappointed that I couldn't make my time goal anymore, and that running suddenly became so painful. Never had I experienced this before. I had to run-walk-run because I was crying, leaving me with no breath left to run. Every time I tried to go back to running, I started to hyperventilate. I had to tell myself to stop panicking and just slow down – I'd get there eventually! I had to let go of my time goal and try to eat (which really didn't work well as I still felt so sick).
In the meantime, the sun started to shine and it got quite hot, and the road was getting hillier. The Buller Gorge is not necessarily a hilly marathon, but there are quite a few uphills, the highest point being 173m. I know it's nothing for New Zealand standards, but during a marathon, you can feel it. Although I'd trained hills so much during my training sessions, it still got to me. Also, the road was opened up for traffic again, which meant we were running on a road with traffic coming in from both sides… I didn't know this beforehand and found it quite uncomfortable. However, I can also understand the impossibility of closing a highway off completely for a whole day.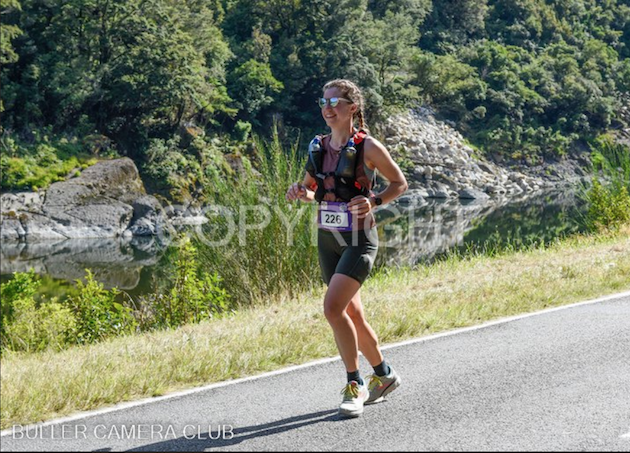 At every aid station I drank some water and after the beautiful part in the Gorge, we arrived at the farm-end of the run. It's a bit more boring and the hills are a bit more frequent, but you're also getting closer to town! I still had to walk-run and when I saw Xander standing at the next aid station it really brought me back to tears again. Everyone was asking whether I was okay, which I was – it was just emotional seeing him and not feeling well.
One foot after another
A really lovely gentleman said he'd run with me for a bit and we walked for a few hundred meters. He offered me a peanut butter jelly sandwich but I still didn't even want to think about food. He was clearly enjoying his and was having a good time. I felt I wanted to go back to running, so I thanked him and started to run-walk again.
I used an adaptation of Fartlek. Focusing on different items along the way, to decide when I would run and walk (houses, signing posts, people, aid stations). This went quite well and I talked to quite a few people that were struggling themselves. I got supported heaps from the side of the road. People wanted to give me their hats because it was so hot. It was about 23 degrees by now and there was no shade at all. The closer we got to town, the more people were cheering us on, which helped a lot.
When I arrived at the bridge crossing the Buller River and running into town, I was running again, still managing a run-walk-run. Xander cycled over to see me and cheered me on, so I felt I had to keep running. Then there were all kinds of other people on the side of the road. Some playing music, others holding a hose so we could run through the water (that was the best ever!). I just had to keep on running, I felt I couldn't stop to walk.
Everything comes to and end!
Then someone was following me from really close behind, it was a bit uncomfortable at one point so I tried to move and make space so he could overtake me. However, when I turned around, this guy said he was following me closely because he was having a hard time getting to the finish. In this, I found motivation and so we ran towards the finish together. I cheered him on, going a bit faster slowly. When we took the last corner one of his friends joined us as well. She was in for a race, it was only 250 meters to the finish, I was feeling good because I was there, cheering this guy on, so she and I took a little end sprint (and I won!).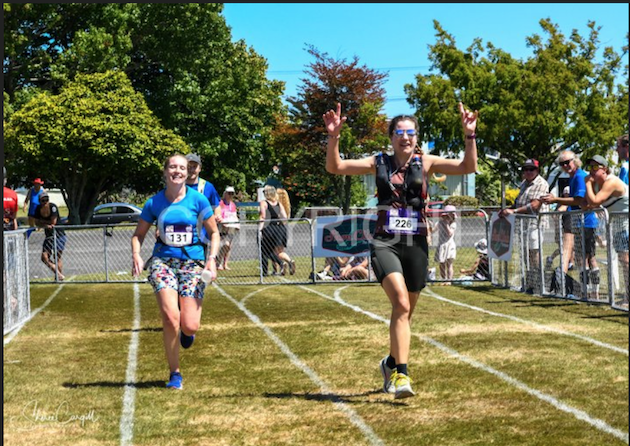 We congratulated each other on making it to the finish line and collected our medals, plus more water, electrolytes and ice (yes, ice!). Not ice cream, but ice just to cool myself down. I received a spot prize as well. This is something they do a lot in New Zealand – you just get a random prize because you take part in something. I received a sun visor, which I was very happy about as hats often make my head feel too hot. And, a water bottle from a beer brand that sponsors the Buller Gorge Marathon. Never turn down a freebie…?

My first and last marathon in New Zealand?!
I was happy I made it to the end, but not too happy about my result. My hip was still hurting so much I could barely walk. We went to the supermarket to get lunch and all kinds of good snacks for the drive back. I preferred to go back that Saturday and have a day off that Sunday at home, instead of possibly not resting well and having to drive back the day after the marathon. We went to the house, showered, ate heaps of food and packed up for the drive back. Which for some odd reason seemed waaay longer than on the way over.
The drive back was painful – it was hard to sit still for such a long time with the pain in my hip, but we tried to get out of the car as often as we could. That night we had Thai food in Blenheim at our favorite restaurant, which was great. Recovery started, I already felt much better a few days after the marathon.
Or maybe not the last one?
My hip still occasionally plays up, it's getting better though. I try to work on it in the gym and slow back in to running.
I was planning to run a half marathon shortly after, but I haven't been able to train for it. We had so much other stuff going on. Besides I'm having a hard time trying to find the time to train with the really dark and early winter evenings.
I'd like to go back to the Buller Gorge Marathon to get a better time, but not next year. I'd rather get really strong first. Training was intense, especially after only recently moving to New Zealand. Also, I disliked the fact that it's a run on a highway. I came to New Zealand for trail runs, so I'd like to work on doing more of that first. I have a few on my list that I'd like to try, maybe just solo and for fun, not for time.
I need to keep in mind that we're also leaving to the Netherlands soon. I'm probably not going to train a whole lot there and there's still a lot to arrange before we leave. But that's fine, no big races coming up now anyway. I'll start to think about specific goals during our trip (marathon or not? so I can start training when we get back to New Zealand!