It's been a while since I've written a blog post. I have heaps of inspiration and enough adventures to write about. However, I'm training to run a marathon (my second)! This means lots of running all over New Zealand. Add full-time work to this and that equals (very) limited spare time. Yesterday I've been on my longest training run – 34km that turned into 36km… This means today is a sitting/lying-down day: time to write! As there are only three weeks left until my marathon, I thought it would be nice to take you on some of my New Zealand running adventures in the past months.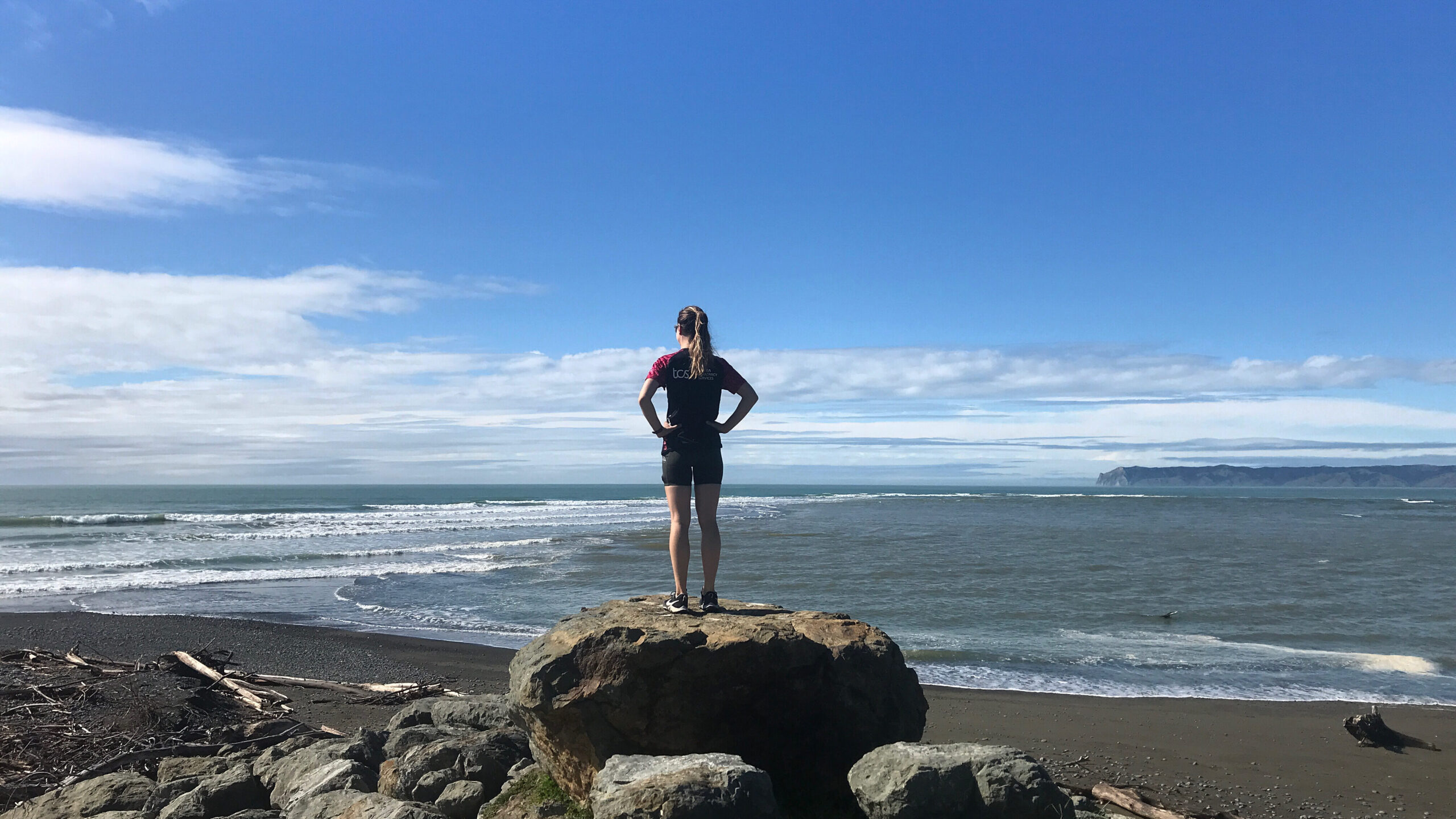 What am I training for?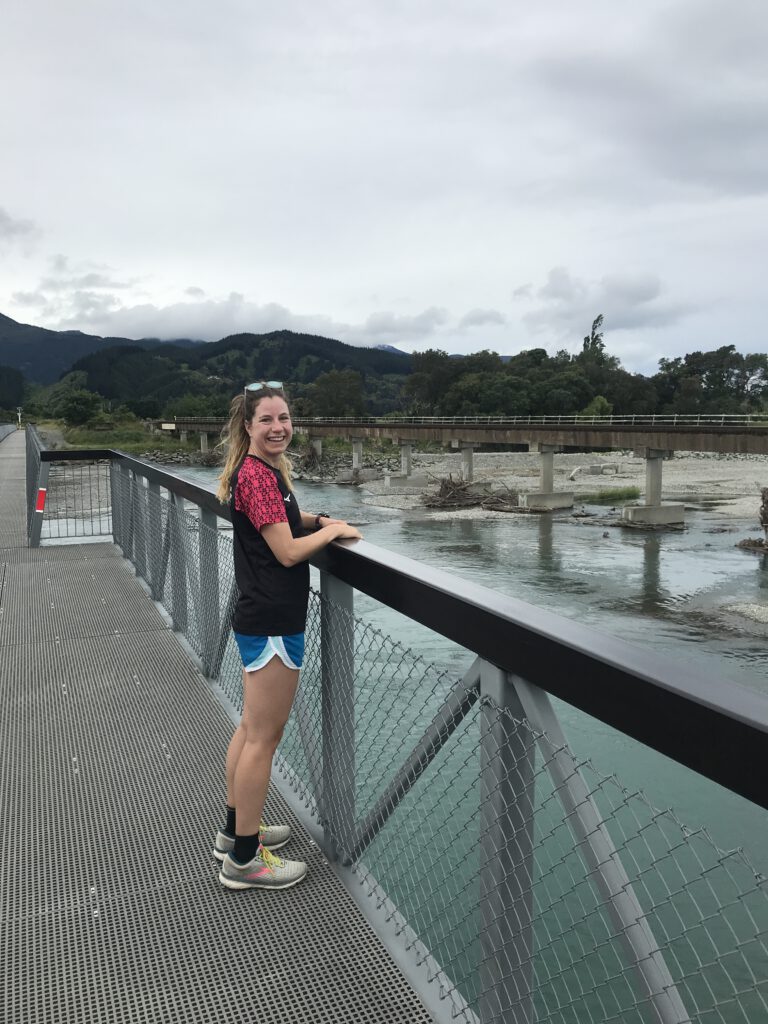 I ran my first marathon in Amsterdam, in October 2021. It was so much fun that I definitely wanted to try again! But then our whole New Zealand adventure went into overdrive. This meant relatively little running and lots of preparations to get ready to emigrate. Since we've arrived I have slowly picked up running. Yet it was difficult to choose a goal to work towards…
After some struggles and lot's of internal debating the time had come: I entered my first marathon in NZ. I simply decided to pick a marathon relatively close to Blenheim. I heard great stories about the Buller Gorge Marathon, so that had to be it!
Interesting fact: in the Netherlands we don't really do running competitions in summer (most events are in spring/autumn). In New Zealand however, they organise lots of running events in the middle of summer season! As the climates varies a lot throughout the country you can "choose" a marathon that suits you best with regards to the expected weather and temperatures. If only the climate wasn't changing…
Buller Gorge Marathon
The Buller Gorge Marathon is supposed to be one of the most scenic marathons of the country and in 2023 it's celebrating its 40th anniversary. It was supposed to be in 2022, but due to covid they had to cancel the event.
The run follows State Highway 6 alongside the Buller River, all the way down to the finish line in Westport. Its highest point is at 173 meters with an elevation change of 167 meters. This means it's a hilly marathon, but not extremely hilly. Nonetheless all of it is still road running.
I chose to do a marathon because I'd love to get into running even longer distances, preferably on the beautiful trails that you can find all around New Zealand. I think the Buller Gorge is a good transition from flat road running (like the Amsterdam marathon was) to the hillier stuff around here. Even though I had done quite some trailrunning in the Netherlands, trails are a wee bit different around here.
Hilly marathon training
I started training in the last week of October, which meant I had 16 weeks until the marathon. I wasn't doing any long distances yet; 10k was my maximum. A hilly marathon means hill reps, which were usually combined with an easy run and a long run each week. In addition to this one strengthening session in the gym.
On top ofthat, I bike to work daily (22k total every day) and we went on a few nice long hikes as well during the past few months. Of course, interval and tempo sessions were also an important part of my training. My first week of training totaled 18.1k and my biggest week was 52.7k. Every fourth week would be a slower, and shorter deload week. This means less km's, and not as much hard training to recover and adapt to the harder stuff.
Running in New Zealand
My usual training has been close to home or work. I run alongside the Taylor River in Blenheim. Do hill reps at the graveyard in Tuamarina (I know that sounds weird, but it's a great hill with amazing views!). Run towards Cloudy Bay and back (taking a dip in the ocean if the weather and water allows) and run from work back home through Grovetown and Spring Creek. Once my long runs really started to get long, I started looking for more exciting places to run.
Half marathon at Picton / The Snout
The Snout Track in Picton offers some beautiful views of the Marlborough Sound, especially once you're up at the Queen Charlotte View Lookout. You run alongside native bush and it's a quite hilly run: some parts you have to walk as it's just too steep. Unfortunately I discovered the track is not that long. It was about 12k back to where I started, which meant I had another 9k to do. I ran around the area, discovered some mountain bike paths and managed to run the half in 2h 45 (total ascent: 710 meters).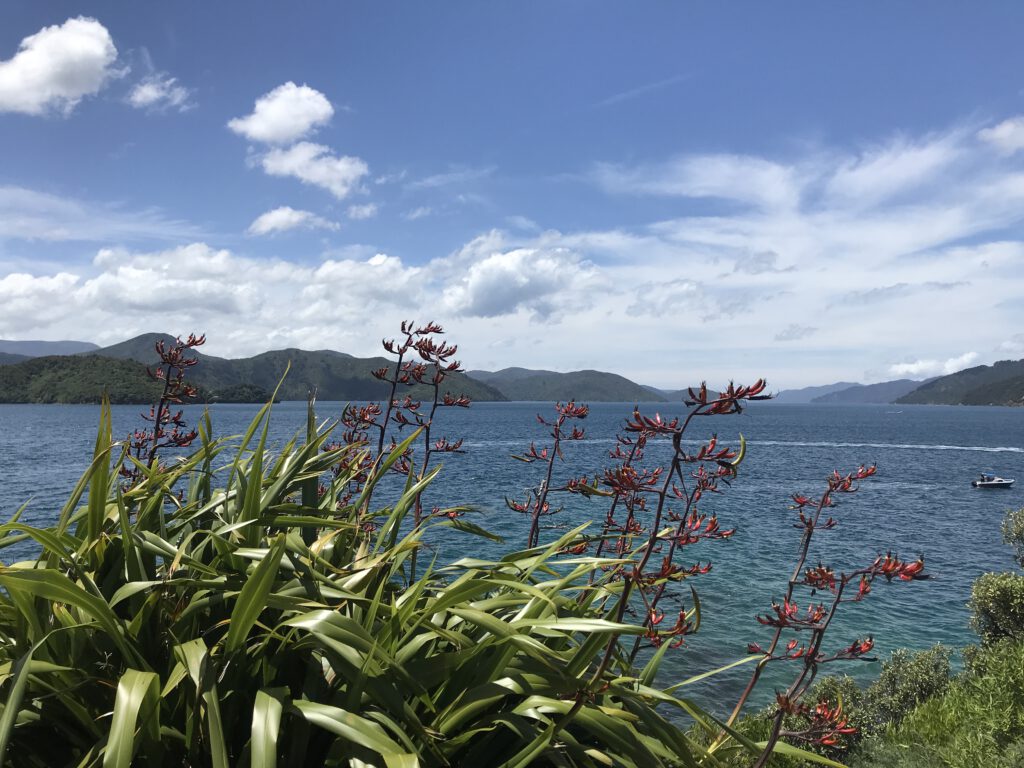 We went there with the whole 'family'; me, Xander and the people we're boarding with. We all went for a run and had a little dip afterwards in the ocean at Picton. Oh, and don't forget the big ice-cream afterwards!
Kaituna-Tuamarina Track
For my 24k run I ran the Kaituna-Tuamarina Road (12k in, 12k out, total ascent: 168 meters). Which I ended up doing on the very, very hot Sunday that was Christmas Day. It was so hot and sunny, I was quite slow.
This path is actually the road between Tuamarina and Kaituna, alongside the Wairau River. It starts off with some farms and houses and then slowly it gets more windy and you run alongside native forest, with the river on your left and the mountains on your right hand. Beautiful.
The tarmac suddenly changes into gravel and you cross small creeks and even more farms. The cows were looking at me like I was this crazy person running there (maybe they were right?). At the end the road changes into tarmac again, and no trees, no nothing. This meant soaring hot sun and me dying in the heat (good training as February is supposed to be very hot, oops).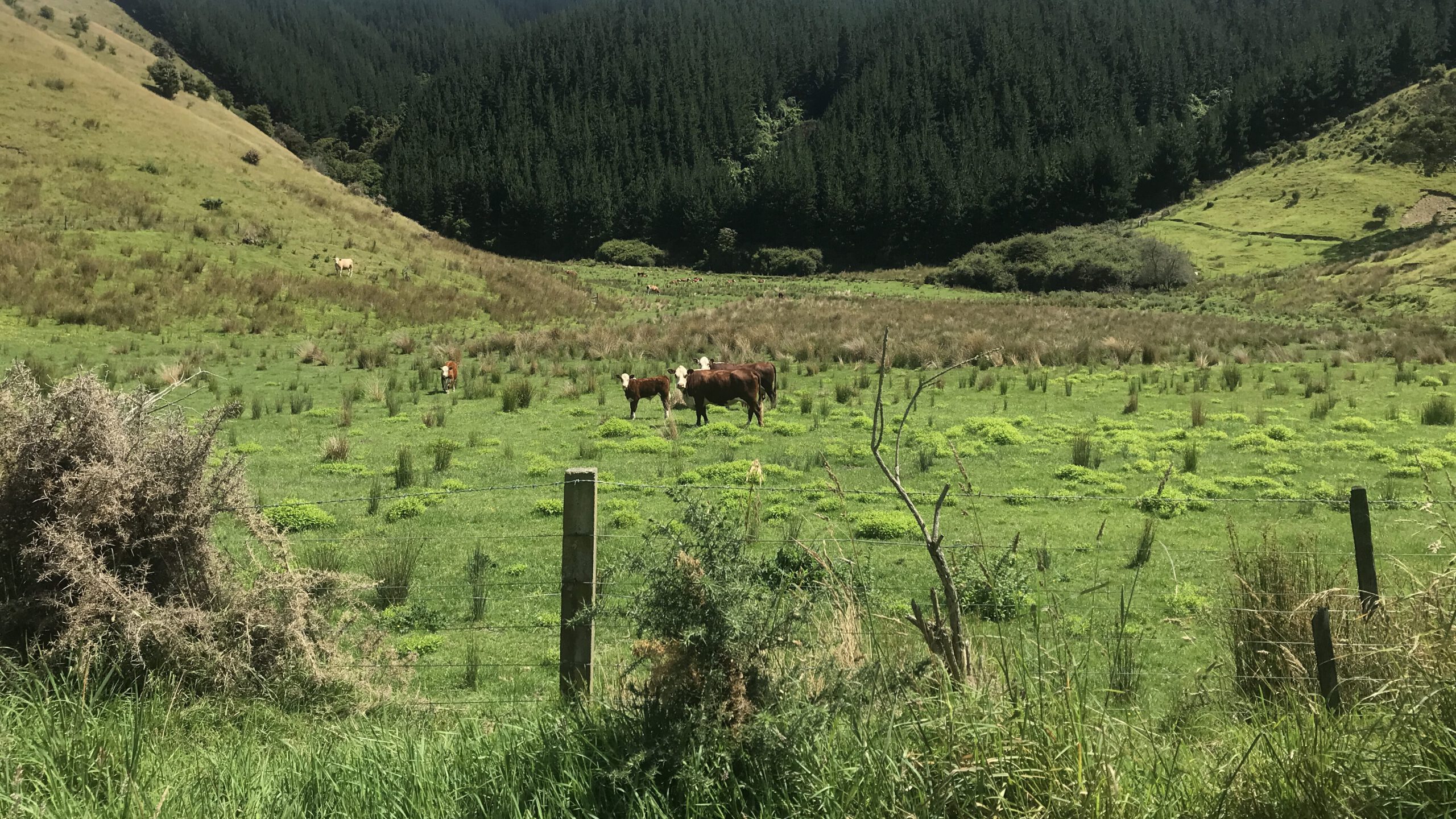 When I turned around I splashed myself with some cool water from the creek. Later on I met a weka and her babies (cute!) and further along the path even two wild baby-pigs (not so good as they're an introduced species killing off native plants, but still cute as well). That was me for Christmas Day, fortunately I had some days off after this one!
Running The Link Pathway, New Zealand (1)
On the first of January I ran the Link Pathway from Picton to Anakiwa (23k, but I added 3k on the Queen Charlotte Track because I had to run 26!). It was a beautiful day and this was a new trail for me, which was great fun.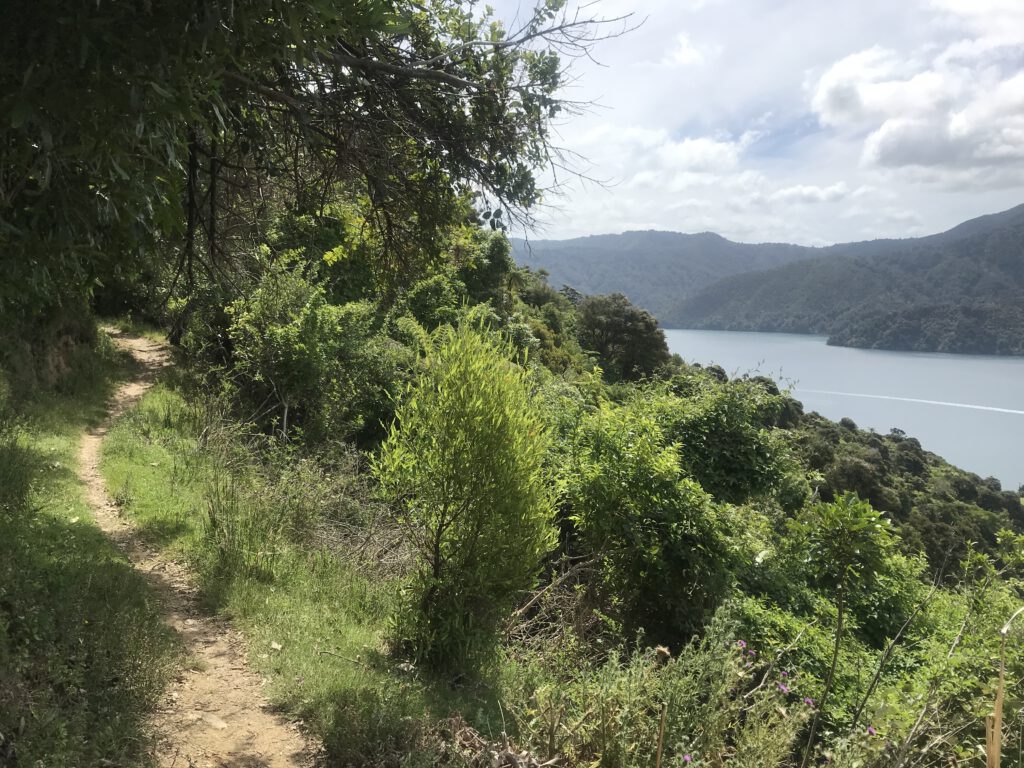 Quite hilly (especially the first 10k) but beautiful views and amazing native forest. It went very well, however, the last bit of running was alongside the road close to Linkwater. This was quite boring and hard to do. Running straight after all those New Zealand hills, and corners, and ever-changing scenery is just a bit.. dull I guess?. As soon as I headed to Anakiwa all was fine again. I managed to finish off with the 3k's on the Queen Charlotte Track and dipped in the warm water afterwards. Hoping for a cold, refreshing dip, the water turned out to be really warm! I managed 26k in 2.54h (total ascent: 977 meters).
Running 30km's around the block
Even though this was not an exciting location, I just wanted to share it anyway as it was a good training run! This weekend the weather was not at its best: cloudy and really windy, which meant I preferred staying close to home. I decided to run around the block, which, if you take the long route is about 11km's. Sounds boring, I know, but I actually really enjoyed this long run too. A good podcast and just straight-on road running. I managed to run 30k's in less than 3 hours which I was very happy with.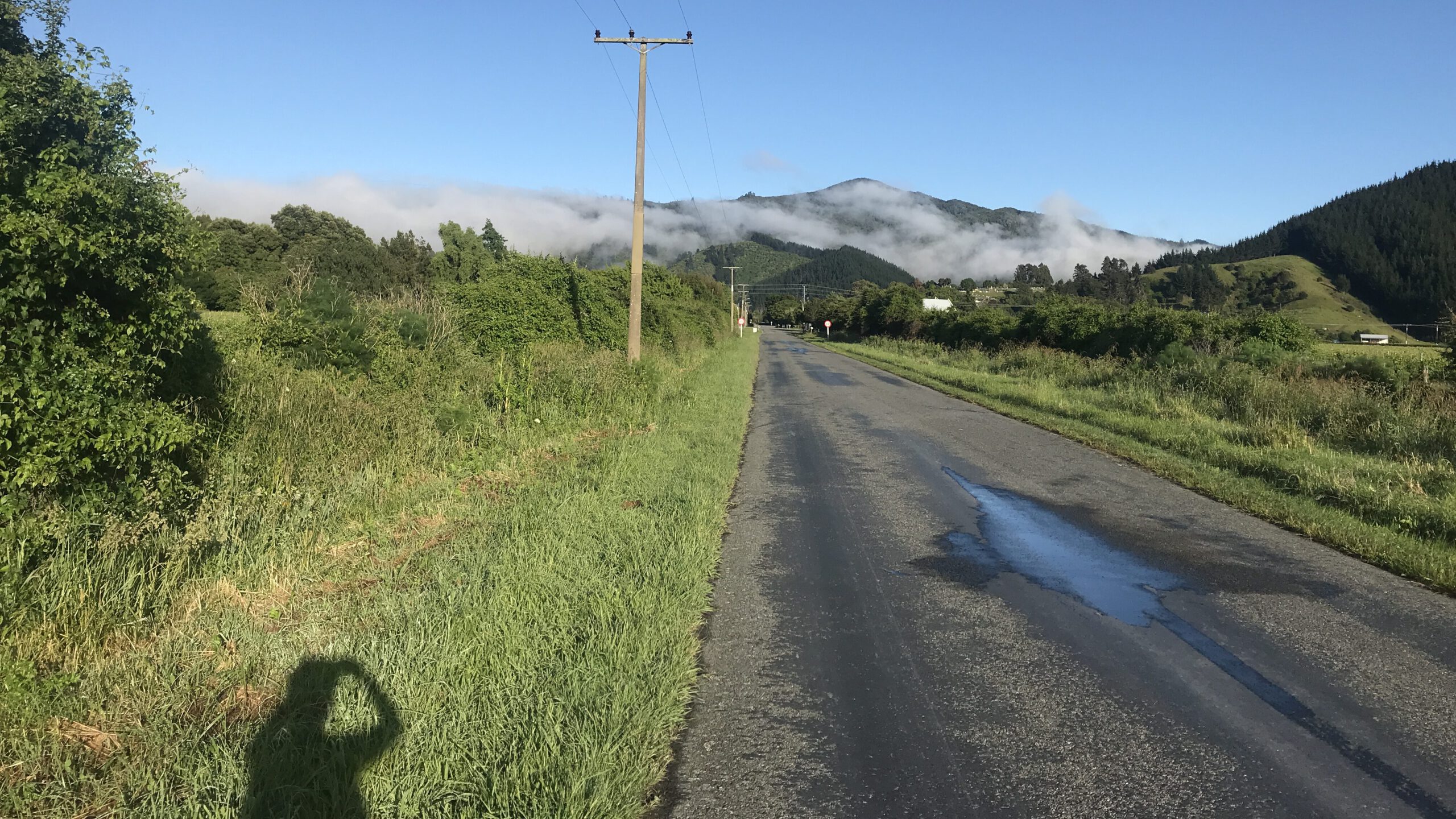 Running The Link Pathway, New Zealand (2)
And here we are: my longest training run for this marathon was only yesterday. I decided to run the Link Pathway again, only this time I would run the other way round: from Havelock to Picton. The Link Pathway splits up in Linkwater, one way continuing on to Picton/Havelock and the other way going to Anakiwa / the Queen Charlotte Track.
So I ran the longer route (36k) and in opposite direction. I was very excited and felt good after a deload week last week. But man, it was hard! Easterlies were roaring through the long straight part of the run in Linkwater and I was feeling very sick between 10-20k, which meant I couldn't really focus on eating well during the run. /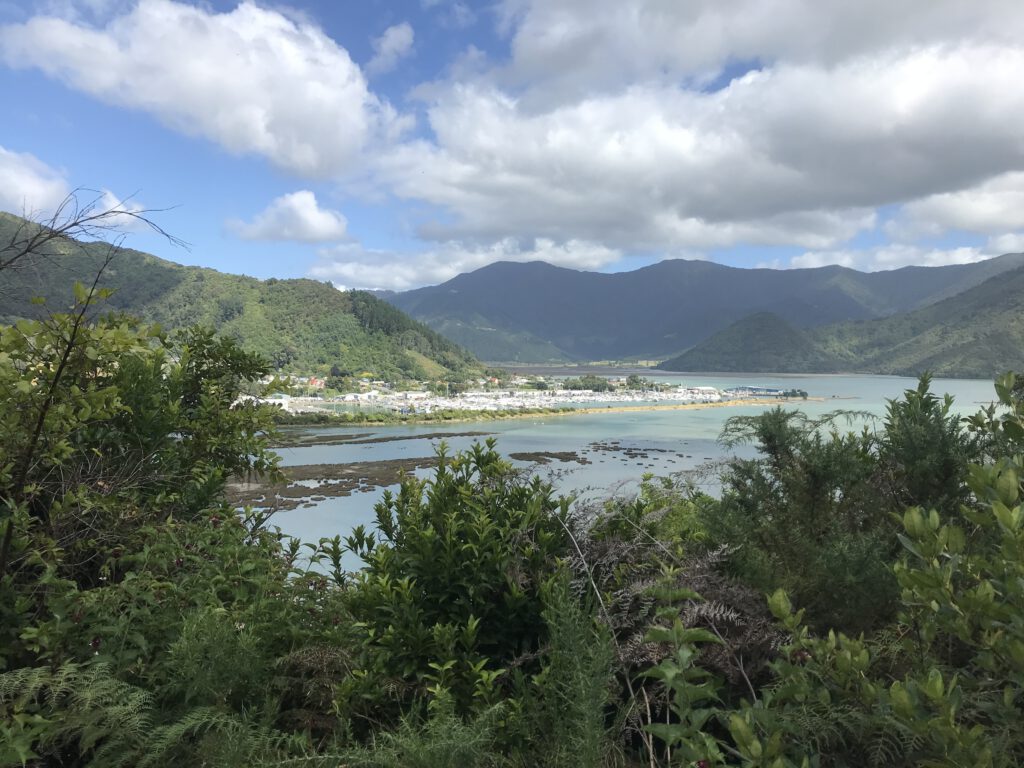 Normally I never have problems with fuel and I ate the same stuff I always do, so I'm not really sure what happened. It just meant I did a lot of run-walk-running. I had told Xander, who dropped me off in Havelock, to meet me in Picton in about 4 hours. The 26k I did last time in about 3 hours made me think I could do the 34 in 4h easily.
Running in New Zealand isn't always easy..
I felt so slow and I was worried that I wouldn't make the 4-hour mark we settled on. Which didn't really matter, but still, I had this time limit on my mind and it was playing games with me! Luckily the track was beautiful; native forests, small waterfalls, birds singing, ups and downs and small bays.
I started to feel a bit better but there it was: the big hill. Last time I ran this track the other way around I didn't notice the hill so much as it was at the start of my run, but now I was tired already after 26k and all I could see was up up up. Around every corner another uphill was waiting for me and I had to walk it all as it was too steep to run for me.
Fortunately, at 31k I ran into Xander. Slowly, we made our way back to Picton together. This helped boost my energy a bit as I was thirsty (and out of water) and had a very tired body. I didn't think I'd manage but eventually I finished the 34k within the 4-hour mark! It was hard but in total I ran 36k in 4.14h with a total ascent of 1061 meter.

Towards the finish line!
I sort of feel like I already ran the marathon (my first marathon time was 4.15h) but well, at least I'm prepared I guess? And I had fun! My body is very tired but no real niggles/pains, which is good. From now on it will be taper, which means less km's, until the 11th of February! Hopefully I'll update you with a story about running a great first marathon in New Zealand by then!