In October we were lucky to have two long weekends: one because of Labour Day and one because of Marlborough Day (all regions in New Zealand have a 'Day', which means: a day off!). That meant we had some time to explore. During the first weekend we end up climbing Tokomaru / Mount Robertson in New Zealand. This post shares our tramping adventure up and down this beautiful mountain.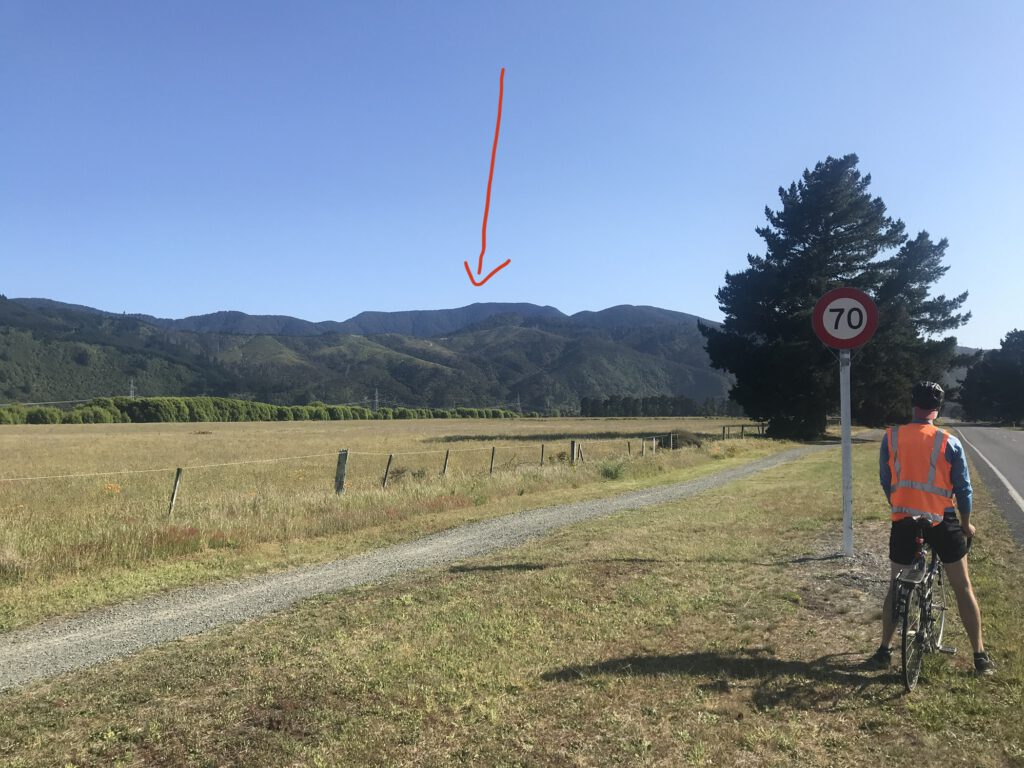 Remember our little hike at the Pukaka Valley? Well, it is possible to follow that path further, all the way up the mountain. However, on that day we decided not to. As we did not bring enough food and we were up for a shorter hike. However our curiosity was sparked and we decided we'd be back to climbing Tokomaru / Mount Robertson!
Today the weather forecast is great, and we decide to wake up early and get going. We pack our bags with a lot of water (there is no water on the trail), lunch and plenty of snacks. We're both wearing our running outfit, but weren't sure whether it will be possible to run any of the track. We also take our raincoats and some warm layers: can't trust the New Zealand weather!
We start by cycling to Rarangi. Here we park our bikes and start the hike up to the start of the Mount Robertson Loop Track. It's a loop of 7.1 km that takes about 8-9 hours (according to the DOC) via Port Underwood Road. From the Loop Track junction it's possible to tramp all the way up to the summit of Tokomaru (6.4 km return, which should take about 4 hours according to the DOC).
Into the forest
The first part, up to the start of the Loop Track, we've walked before, so that's easy (and still beautiful!). The Loop Track starts out as a sandy 4×4 road (which means a road for 4-wheel drives) that goes up super steep. And the sun is out: it's hot!! But when we reach the first viewpoint we immediately know it's worth it: what a view! We're up so high already!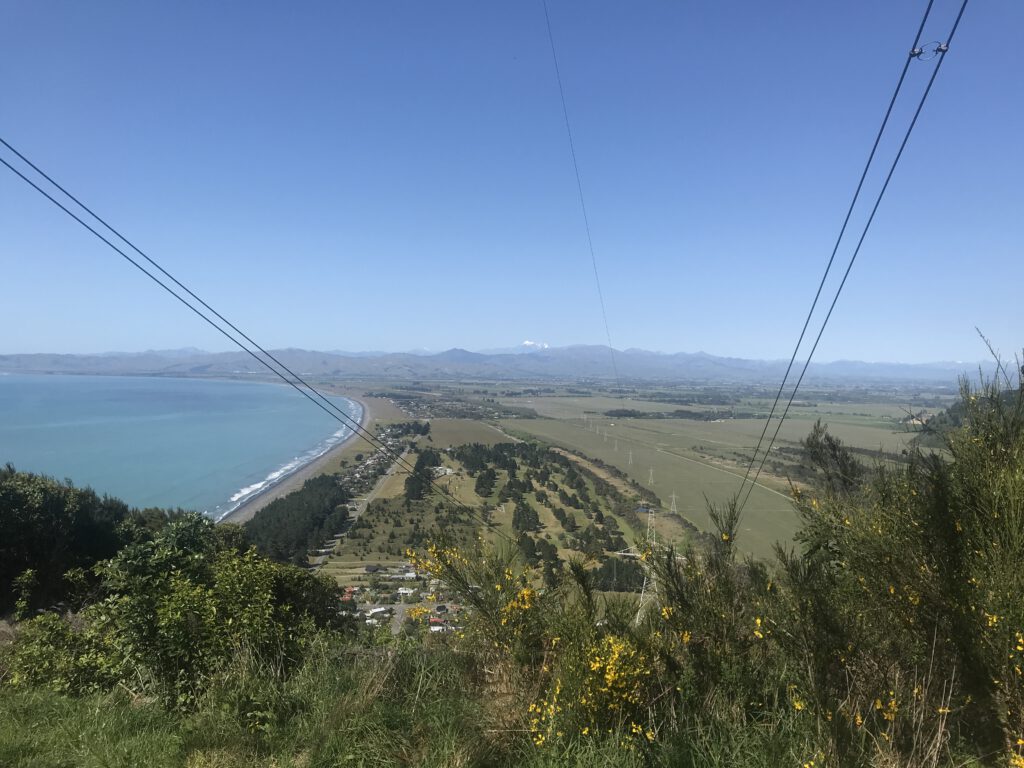 The track then disappears into a dense bush full of native plants. We are still going up, but down sometimes as well. The track is covered with stones and we're walking on the mountain ridge: on both sides of the path there's a steep downhill visible. Up and down, up and down until we see the first beech trees coming into sight. They are quite remarkable, as some of them are covered by a black fungus which makes the trees look like they're burnt. There are beautiful big trees; it's quite humbling actually.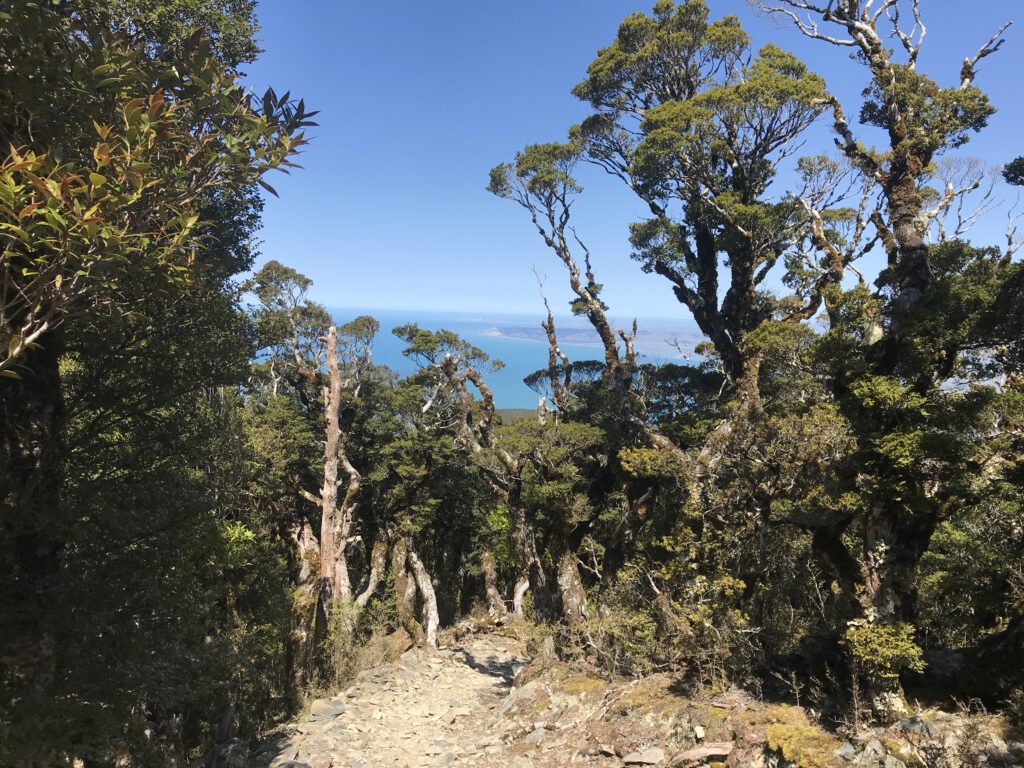 After an hour or so we're on top of one of the hills and we can see where we're going: the top of Tokomaru is clearly visible because of the radar (which looks like a giant silver golf ball). Also, it looks like it's quite far away still… We feel the wind increasing the higher we go up and our calves start to feel heavy. But of course we continue, and the bush changes into a beech forest full of native trees and shrubs, covered in mosses, fungi and lichens. Then we notice we get closer to the top: a steep hill, and we have to make our way up following the zigzagging path. We're not going down any longer, the only way is up!
Onward and upwards
It's noon now and I'm quite hungry. Even though we think we're almost there we take a short break and eat an apple. Shortly after this we get rewarded with an amazing view: there's a little open space just before the highest point of the hike. It provides us with amazing views on all sides: on the left we see the snowcapped Mount Tapuae-O-Uenuku (the tallest peak in New Zealand outside of the Southern Alps), Blenheim, Cloudy Bay and the Wairau Valley. To our right we see the Marlborough Sounds. The water is so blue and it looks beautiful. However, it's very windy up here (and the wind is quite chilly!) and we're standing on a ridge, which feels quite scary. We take a few pictures and push on.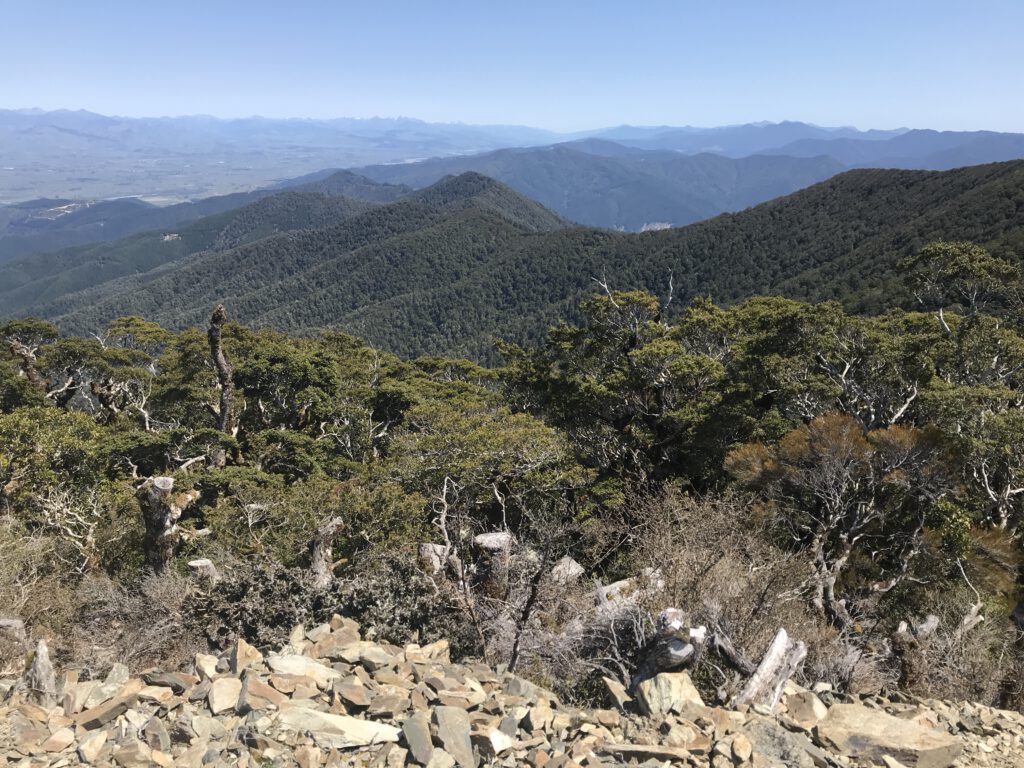 About 15 minutes later we find ourselves on top of Tokomaru, 1036 meters high. The view on top is, ehm.. Well, it's not there. Completely surrounded by bush, no views to be had here. There's the radar tower and there's a grassy bit; we decide to have lunch on a side of the hill so we can sit in the sun. The wind is still blowing and is quite cold, even though the sun is shining and it's a warm day – we learnt that for every 1000m you gain in elevation, the change in temperature is -0,7 degrees on average.
And down we go!
Lunch is great, we're hungry and we're enjoying all the good food we packed. A little Pīwauwau/rock wren (Bird of the Year 2022!) comes and says hi to us. After about half an hour we get up and make our descent down. We start with walking but after a while we jog/run downhill, which is great fun. The knees are having a hard time though. Because it's very rocky and there are many tree roots the navigating can be quite hard. Xander decides to finds some sticks to use for support; yet I find it even more difficult to navigate with them. We have heaps of fun and take about 40 minutes off of our ascent time!
Down at Rarangi we're hot and sweaty. We decide to take our shoes and socks off and have a little feet-dip into the sea. Very cold, very nice. We bike back home and enjoy the rest of the afternoon just being lazy. And I can tell you: the next 3 days were quite interesting… The DOMS (Delayed Onset of Muscle Soreness) were unreal! I couldn't walk properly for the first two days, even though I felt fine on the run. I guess our Dutch bodies still really need to get used to these mountains!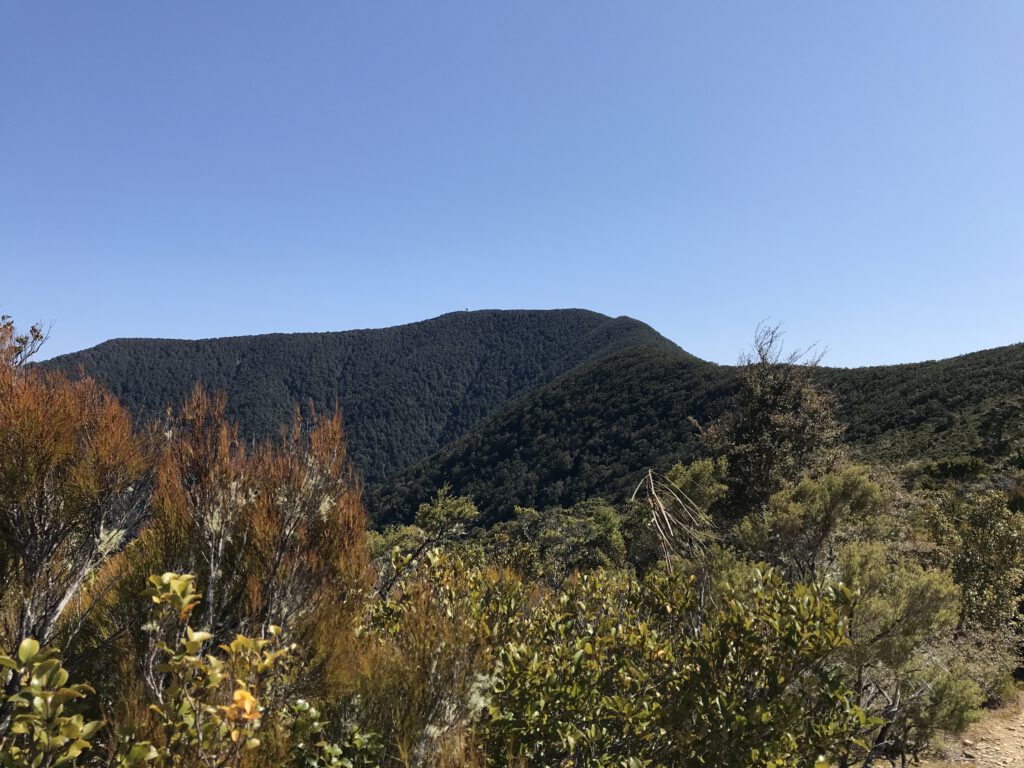 Eventually, it took us 4 hours and 38 minutes. From Rarangi, climbing up Tokomaru / Mount Robertson and back. Which was almost 18 km with a total ascent of 1217m. Going up took us about 2 hours 40 and going back down about 2. I think on the way we saw about 4 people. Two that were walking down when we were going up (two solo trampers) and 2 that were chatting at a junction when we went down. So even on a beautiful day like this it was like we were alone on the track! It was so cool and I'm excited to explore more of these beautiful mountains.