Hi there and welcome to our blog! This week is all about our travel adventures to New Zealand
It's extremely rainy here today, which means we have time to set it all up so we can share our stories with all of you. We're so excited! We will try to share updates weekly but probably less frequently in the future. This one is about our first week and we'll try and update again as soon as possible. You can also subscribe at the bottom of the website for a (give or take) monthly email update with new posts!
Wednesday 27 July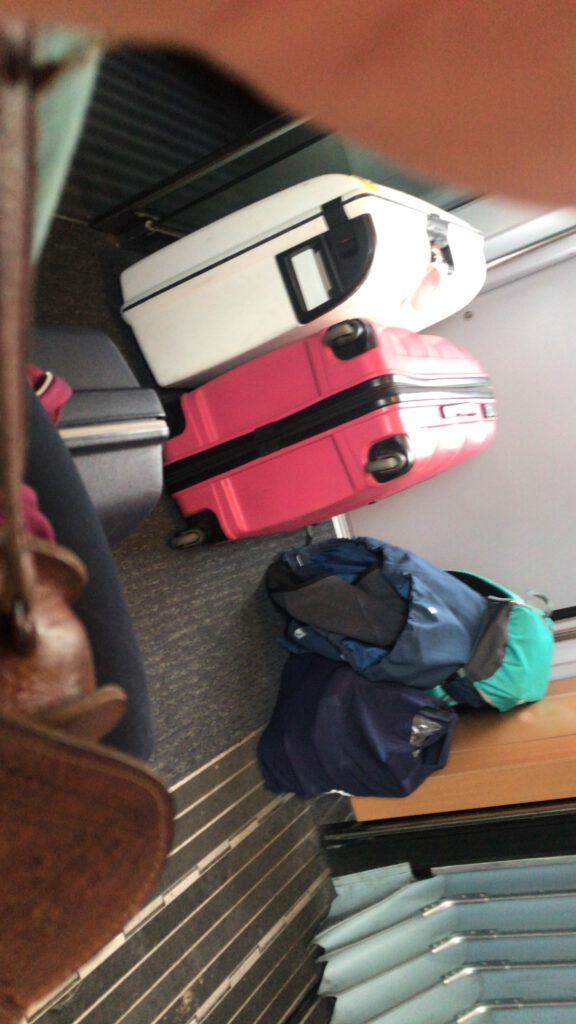 We wake up super early (we must be excited!) after an amazing weekend with friends and family and two days of cleaning and getting rid of stuff. We're exhausted. Today we will finish the last tasks that need to be done: another drive to the second hand store, recycling station and we clean the house thoroughly. Our lovely friend Daphne is helping us out with it all. Around noon we have a coffee in the sun at our neighbours and say goodbye. Daphne brings us to Utrecht Central (Railway) Station by car (yay, all the suitcases fit in!). Hugs and waves and we're off!
At the train station, we try to arrange seats for the trains. We originally planned to leave on Thursday but due to extended engineering works on the railways in Germany we decided to leave a day in advance, but we don't have set seats yet. The man at the desk is very helpful and we luckily only have to change trains once, in Cologne, but he can't guarantee seats. At 3pm we board the train and… yesss, we can sit! The next train from Cologne to Frankfurt Airport also goes smoothly and quick.
We arrive at Frankfurt Airport in the early evening and take a shuttle bus to our hotel. We're so happy because the hotel has a swimming pool and sauna, so we decide to relax there. In the evening we have homemade couscous in our room, drinking champagne and watching womens soccer. It's a great evening. What a life!
Thursday 28 July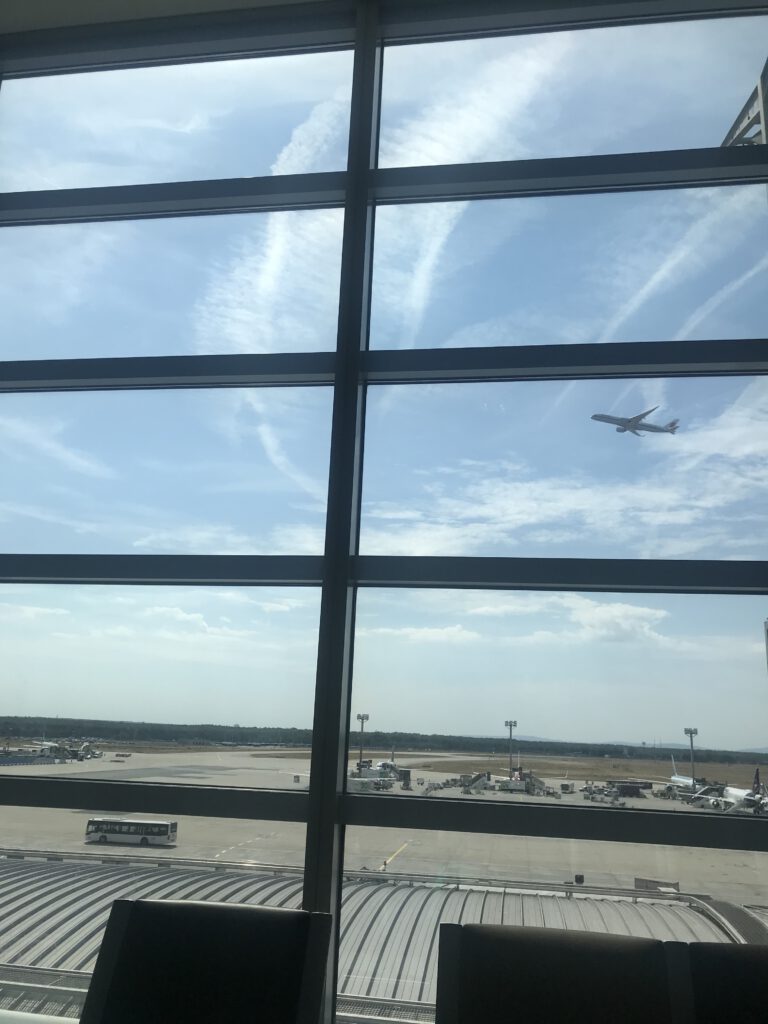 After a short night we wake up and have an amazing breakfast at the hotel. They literally have everything! I'm having difficulties eating because I'm nervous about the trip, but we still enjoy pastries, fresh fruit and all kinds of other good stuff. Even though I didn't eat much, there was someone who definitely compensated. We take the shuttlebus back to the airport. Due to strikes we've decided to get there extra early. We're also a bit concerned about our suitcases; we weighed them 20 times or so, and still we're not sure if they're not too heavy. The lady at the desk is very nice and everything goes well, no problems with the suitcases. We also don't have to wait for a long time anywhere so we're through customs in no time. Time to chill out and wait. We find a spot close to the airstrip to see airplanes leave.
We thought we had booked emergency exit seats, but when we get on the plane we clearly didn't. Our Frankfurt – Hong Kong flight is a bit more cosy than we like. We leave an hour late due to some problems with passengers and COVID-restrictions. It's all fine: we watch some movies, but we don't sleep at all.
Friday 29 July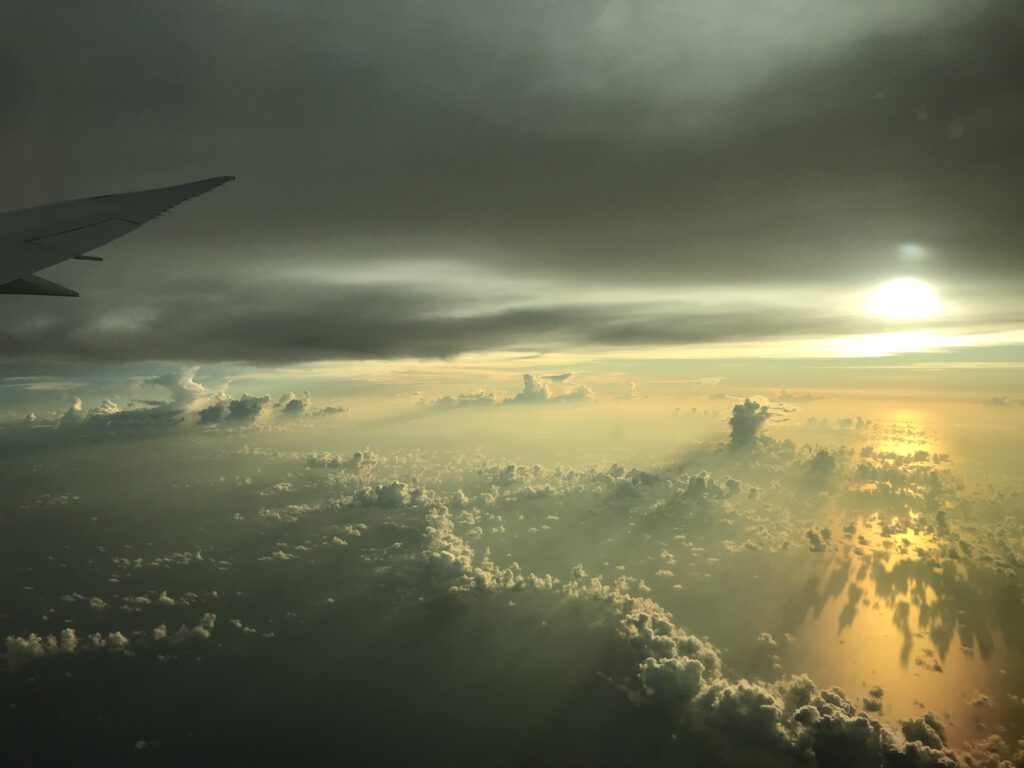 Flying into Hong Kong Airport was beautiful: green mountains all around. It's very hot and humid though, and security seems quite strict. But we go through everything smoothly. After we've found our gate we both take turns sleeping for a bit on a bench, while the other watches our stuff. Because we're there about 8 hours early we're able to arrange emergency exit seats and vegetarian meals when the Air New Zealand staff appears. We're so happy! We eat all of our other food because we can't bring that into New Zealand. Our airplane had been ready in the gate ever since we arrived, so let's go!
Saturday 30 July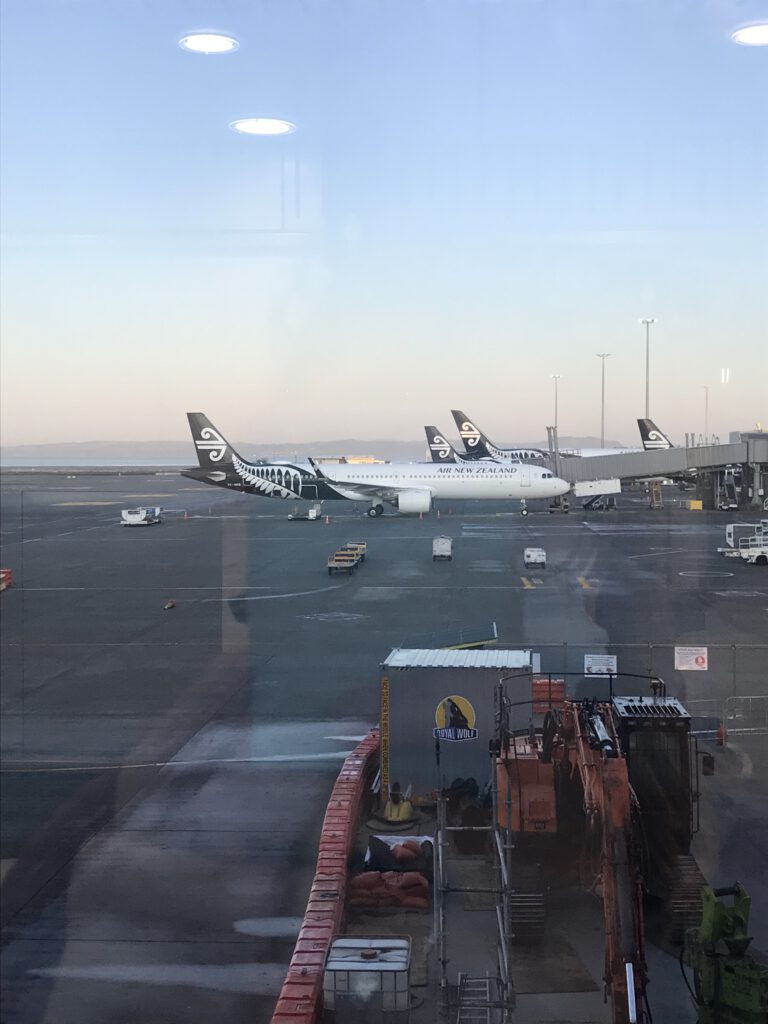 We both sleep a bit on the plane this time (Xander even gets multiple hours!) and the flight is great: the crew is so much fun and we even get a glass of bubbly wine for breakfast because we have something to celebrate! Besides, it's always 5 'o clock somewhere, right? The views are amazing: New Zealand is just waking up from it's night.
We have to declare all kind of things when we arrive and we're a bit nervous: would everything go well with the visas? The suitcases arrive quickly and the checks are also pretty easy: they don't even check our visa as it's all online nowadays! We change some money, get me an AT-hop card so I can travel through Auckland by public transport. Jax (a fellow Dutchie gone kiwi) is picking us up from the airport. She drives us to our hotel where we drop off our suitcases; the room is not ready yet as it's only 10am. We drive to the nearby Takapuna and have a coffee and wander around the beach, which is gorgeous. The sun is shining, it's pretty warm outside and there are many people (and dogs!) at the beach. On the other side the island Rangitoto is visible.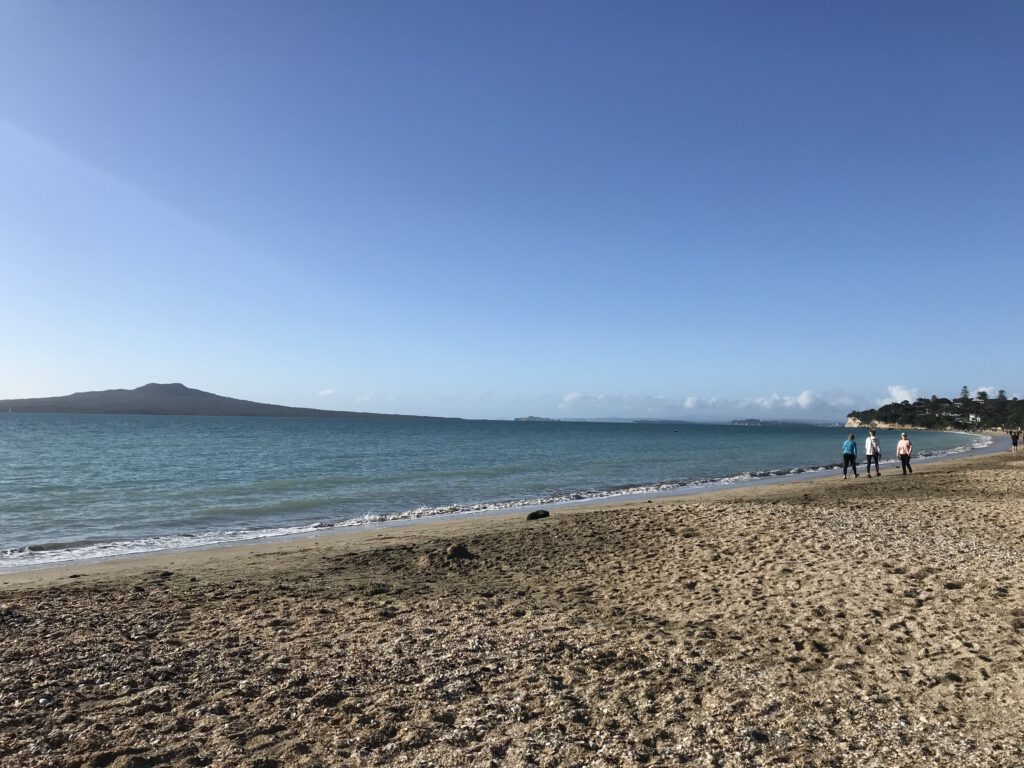 We have 'lunch' together at Mimosa: I have a Kombucha and an acai bowl as I'm craving fruits. We drive to the mall and get ourselves some groceries, then Jax drops us off at our hotel. It's difficult to stay awake, so we decide to take a walk to the nearby ferry. It's like we're drunk! We can't even walk straight. We have an easy meal with wraps and fresh avocado and go to bed at 5.30pm. This is all we can manage after being awake for more than 48 hours with little to no sleep.
Sunday 31 July
We slept the whole night and wake up before it's light outside. We get up slowly, have breakfast, drink some tea, watch some New Zealand television. At the end of the morning it's time to go and see the biggest city of New Zealand: Auckland! We take the ferry from Bayswater to Auckland and the water is quite rough today. It's a bumpy ride and exhilarating to say the least!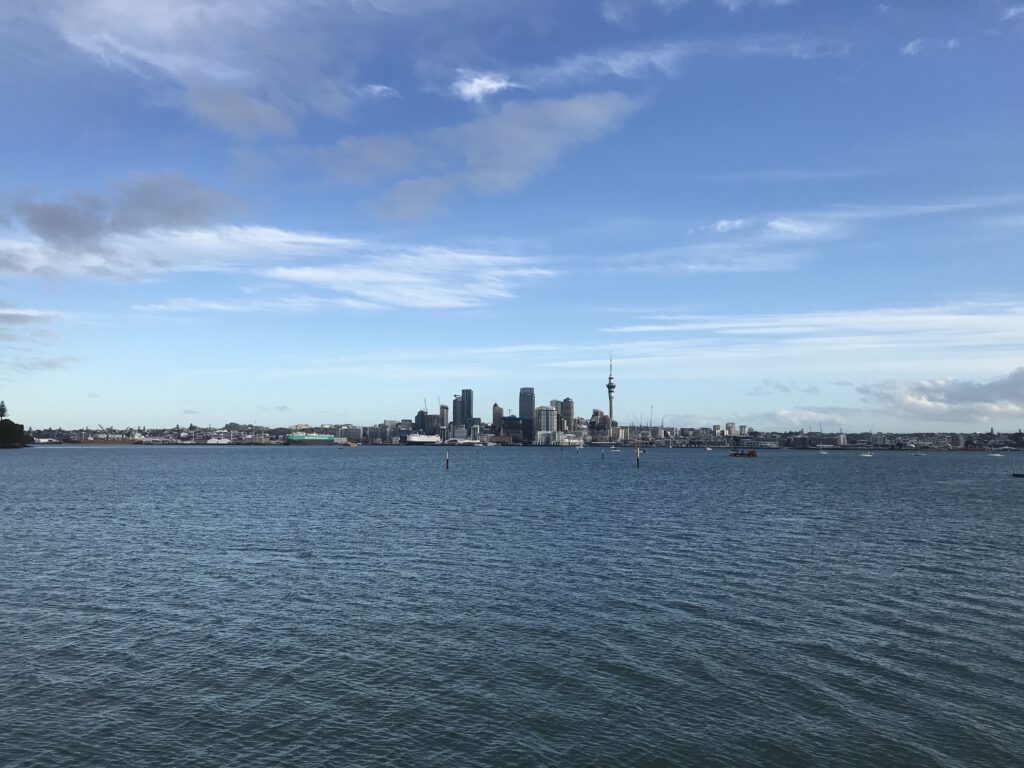 We walk through Auckland City, through it's parks and hike a little up a hill. The parks are quite beautiful but it's all quite hilly, obviously, and we are still adjusting so we take it nice and easy. We have a coffee in the park and walk through what looks like a jungle, it's gorgeous. Then we pop into the library to read some newspapers. We're very tired of the day and of all the traveling still, so we go back to the hotel early to chill a bit. I get stressed because the creditcard is not working. We need it for our Residence Visa Application, which is why we arrived in New Zealand before the 31st in such a hurry! But eventually the problem gets solved quite easily. We manage to extend our evening a bit and find ourselves asleep around 8pm!