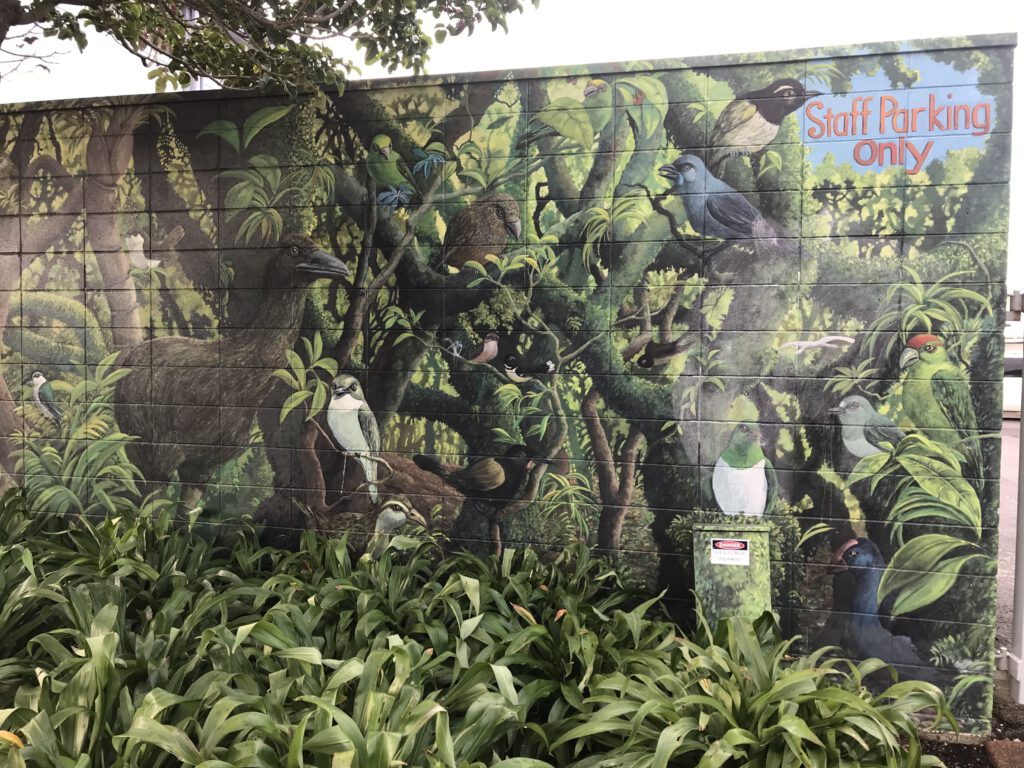 Welcome back to our blog!
Week 2 and we had lot's to do, and therefore write about! It's a wee bit longer than week 1, but we hope to make up for it with more beautiful photo's and even a video. If you're looking for the first week, head on over here. You can also subscribe to our the website for a (give or take) monthly email update with new posts!
Location, Location, Location
So, we currently live in Tuamarina (from the word Tuamarino in Te Reo Māori, which means 'the calm beyond'). It's a 15 min drive from Blenheim, the biggest town in the Marlborough area. Blenheim has about 30.000 residents and is located at the Wairau Plains, the valley of the Wairau River. Blenheim is supposed to be the sunniest city of New Zealand, but we haven't really noticed yet… In Māori language Blenheim is called Waiharakeke, which means 'flax stream'. Marlborough is known for its famous wines, especially the Sauvignon Blanc wines (we've tried some and we approve!). Tuamarina is a bit north from Blenheim and close to the Marlborough Sounds, which is a very beautiful network of sea-drowned valleys. But before we land there, a few more days in Auckland we want to tell you about.
Monday 1 August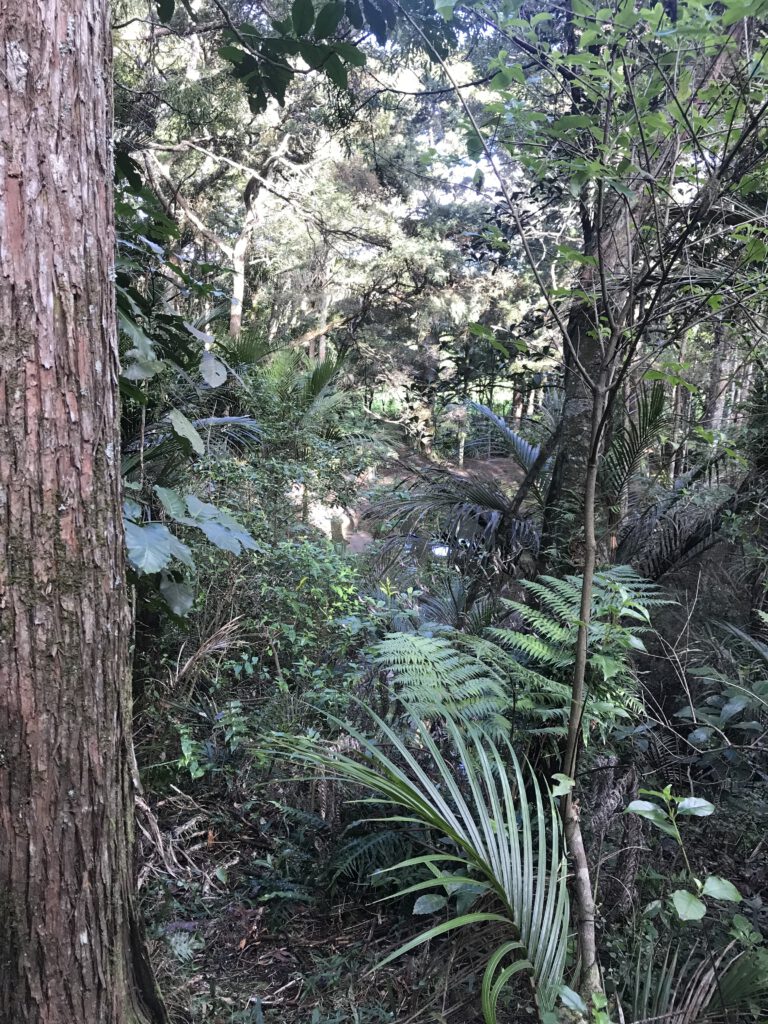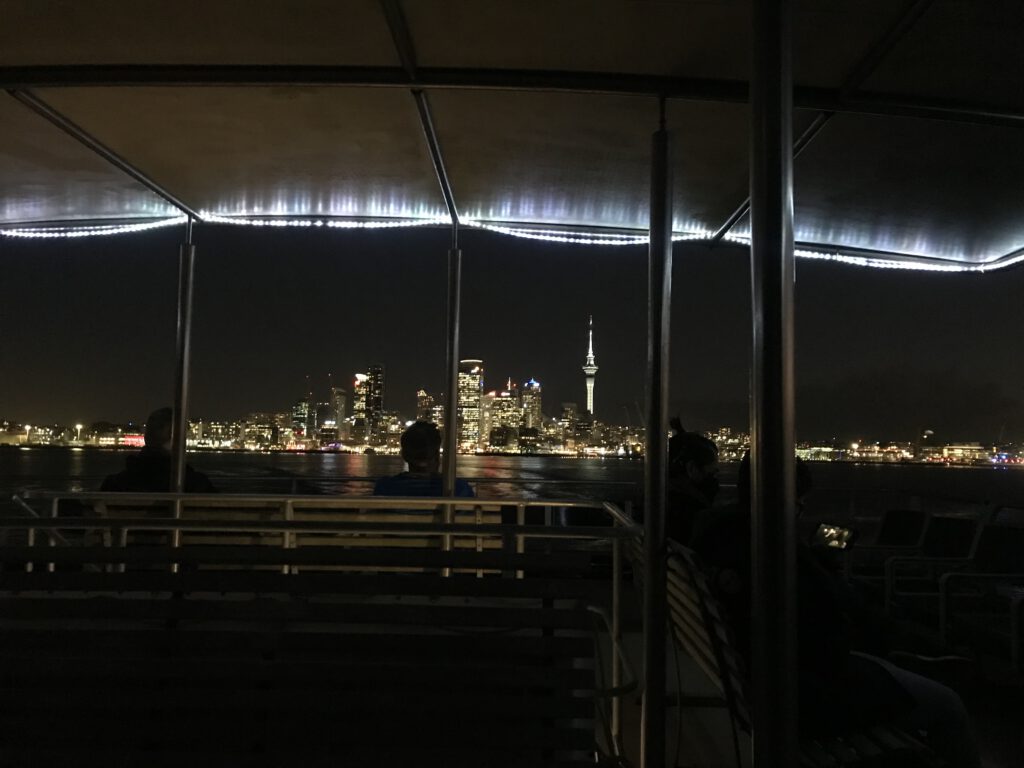 Today we decide we want to go and DO something, after lots of relaxation and sleeping the past couple of days. We decide to visit the Auckland Botanic Gardens. We take the ferry to Auckland central, luckily the water is much calmer today. After that we take a train to Manuwera. It's super cheap to travel by train here, and within 45 minutes we arrive at our destination. It's another 20-minute walk to the Gardens.
The Botanic Gardens are huge and very special; there is so much to see and learn! There are gardens with edible plants (food forest anyone?). A Gondwana arboretum with tree species that grew here when it still was a super-continent, 550 million years ago. There's also a big patch of native forest and so much more. We explore most but not all, and definitely get in our steps today! The weather was nice: sunny and a little bit of rain but nothing too bad. After we leave, we go for fish & chips and a good local draft beer in a pub in Auckland. Very satisfying after an active day like that! Tired but satisfied we go back with the ferry in the dark.
Tuesday 2 August
We have to run some errands today in Auckland. Yet we decide to take a detour and walk to the other ferry in Devonport instead of Bayswater. It's supposed to be a nice place to visit and we're up for another walk as the weather is quite nice. The route is quite lovely, even better than we expected, with some pretty views across an estuary. We hike up the Takarunga (Mount Victoria) and have lunch there with some great views across Auckland and the Tīkapa Moana (Hauruki Gulf).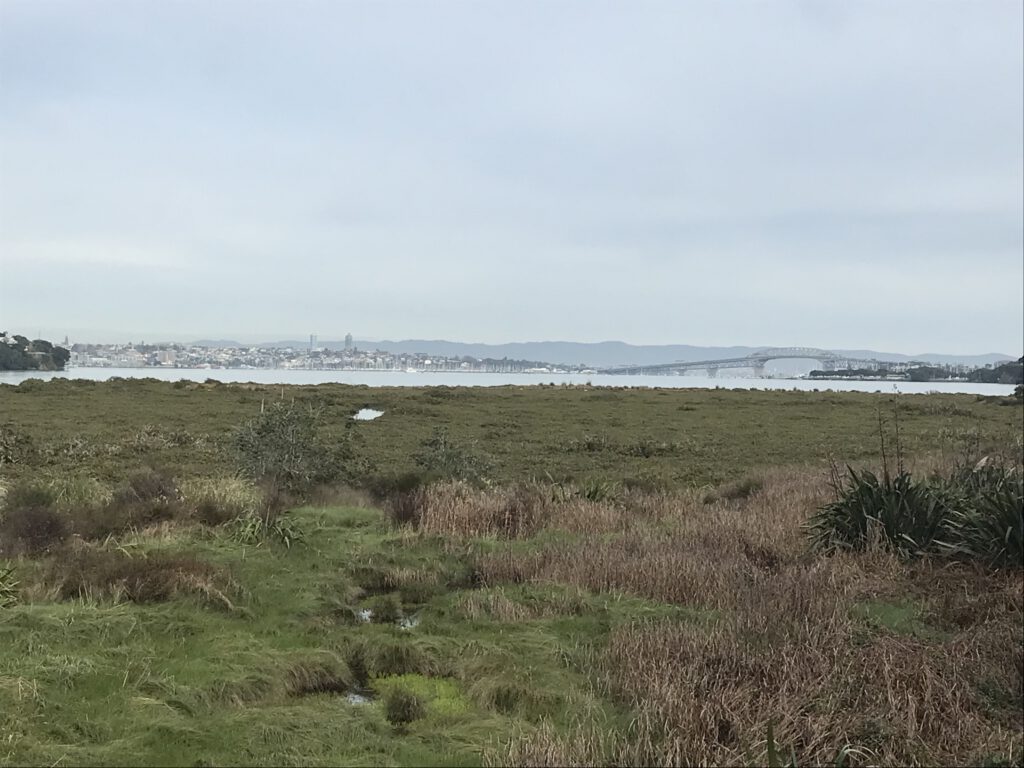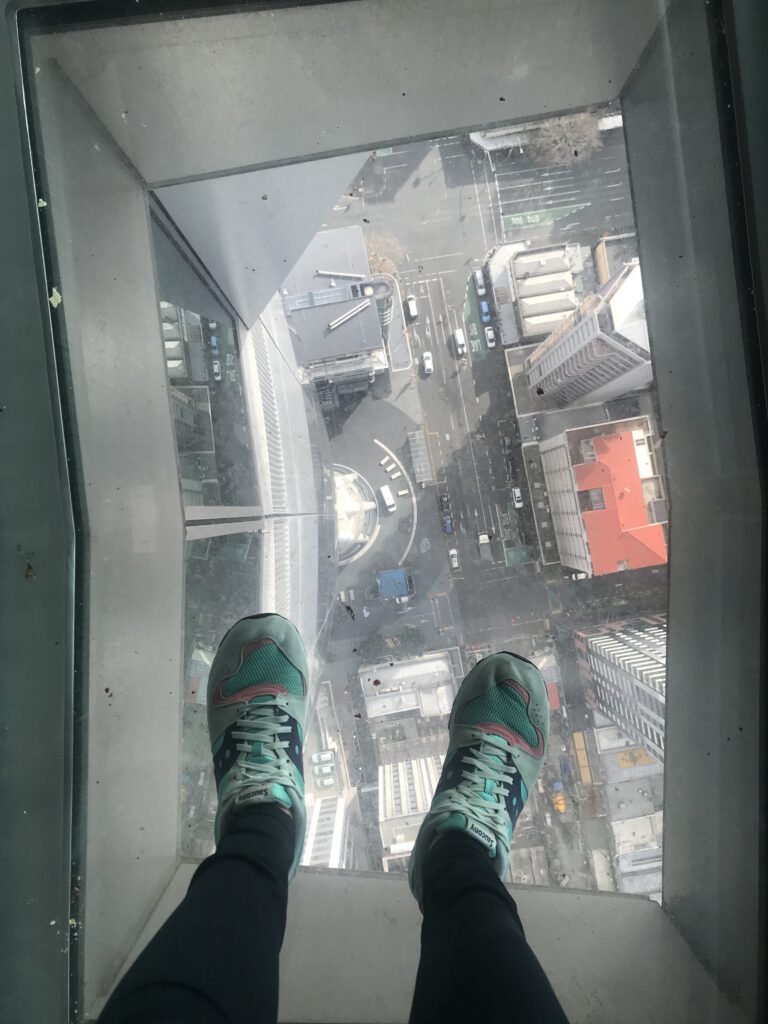 When we get to Auckland we visit the touristic Sky Tower, which is 328m high. When standing on glass floors looking down it's pretty scary, but the views are great as we have clear skies. We run some errands and go back to our hotel: we're tired and tomorrow we will continue our journey to the South Island!
Wednesday 3 August
We get up early and pack our suitcases. We've decided to use public transport to get to the airport as we have a lot of time and it saves quite a lot of money. We walk to the ferry wharf with our four suitcases and two backpacks, so we're sweaty right away as it's also 18 degrees outside today! Then we take a train to Puhinui where we change to a bus that takes us straight to the airport, where we arrive way to early.
Getting ready to fly
We get to check in our own suitcases, which goes smoothly up until the last one, which is 100 grams too heavy, haha! An alarm sets off and someone from Auckland Airport attaches a label to the handle of the suitcase, no problem. I get a bit worried my backpack might be too heavy, but after checking out other people we think it won't be weighed. We have sandwiches and read magazines and wait for some hours.
When we finally get to board, it's totally weird: everything is open, there are no security checks and we get to walk to the small propeller plane ourselves. It's really tiny and can only fit about 50 people. I'm quite scared; flying isn't my favorite activity anyway. Luckily the weather is great and so are the views from the plane! 1,5 hours later we arrive in Blenheim. The suitcases are brought to us with a small trailer which is quite funny compared to the big conveyor belts we normally see. It's cold in Blenheim, about 8 degrees.
J (a friendly Dutchman who's acquainted to the people we're staying with) picks us up from the airport. On the way home we quickly stop by the Pak 'n Save to get some groceries. We arrive in the dark at the house in Tuamarina. We can't see anything outside so we have no idea what everything looks like. The house sitter quickly gives us a tour of the house and leaves and we get to know dog Louie. We cook up some food and explore the big house in the dark. We're very tired so we go to bed after dinner immediately and fall asleep.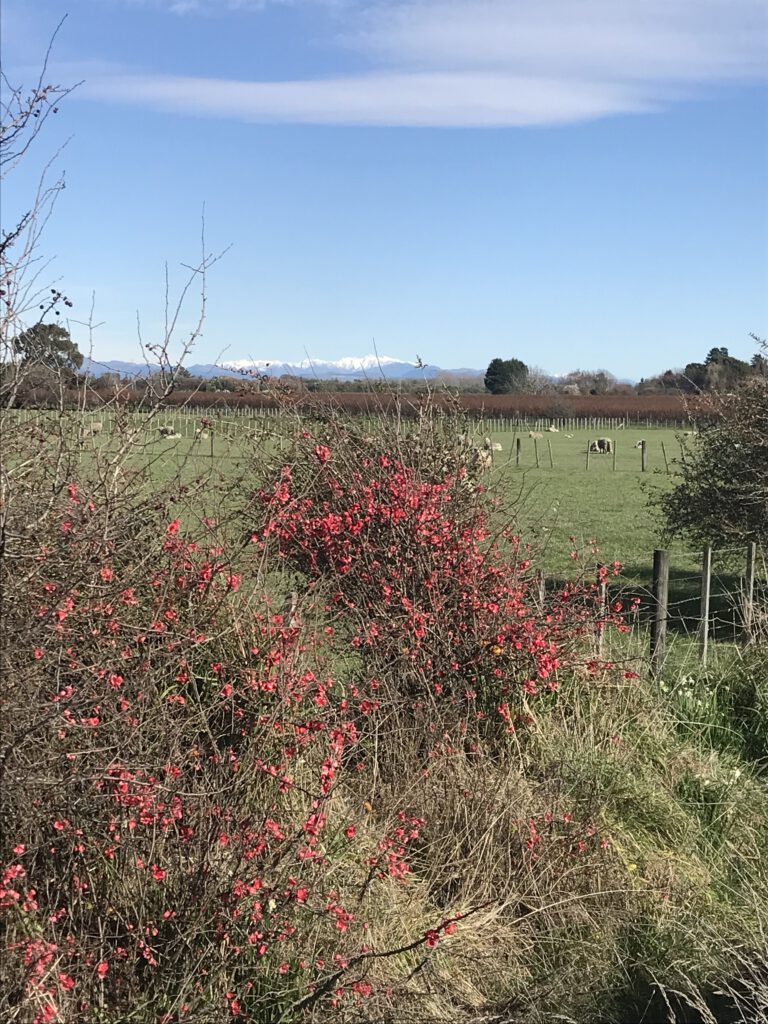 Thursday 4 August
This day we spend discovering the house and the yard: it's light outside so we can finally see where we are! It's crispy and cold in the morning as we wake up very early and drink a cup of tea during sunrise. The living room has windows on all sides so we have some amazing views from here! We take Louie for a walk and feed the chickens and cows. Outside we see vineyards and quite far away we're able to see some snow-capped mountains! Exciting! We walk around the area for a bit; there are no sidewalks, you just walk on the road where the speed limit is 100 km/h, but it's not that busy. We are very tired (again) and call it a day early.
Friday 5 August
There's actually not so much to do in Tuamarina, or I'd better say, there is nothing here except for some farms and vineyards. To get groceries or anything else we need to go to Blenheim, which is about a 15 min drive from here. We try to start the car but it won't work. We've never owned a car and both don't know anything about cars… It does sound like the battery is dead but we're not sure. Eventually we're able to charge the battery and start the car. We drive to Blenheim and visit the information center to get some brochures of the area. Later on, we drive to the beach at Rarangi with Louie and take him for a little walk there. He's so happy to be out and about, playing in the waves! In the evening it rains quite a bit (little did we know how much more was yet to come).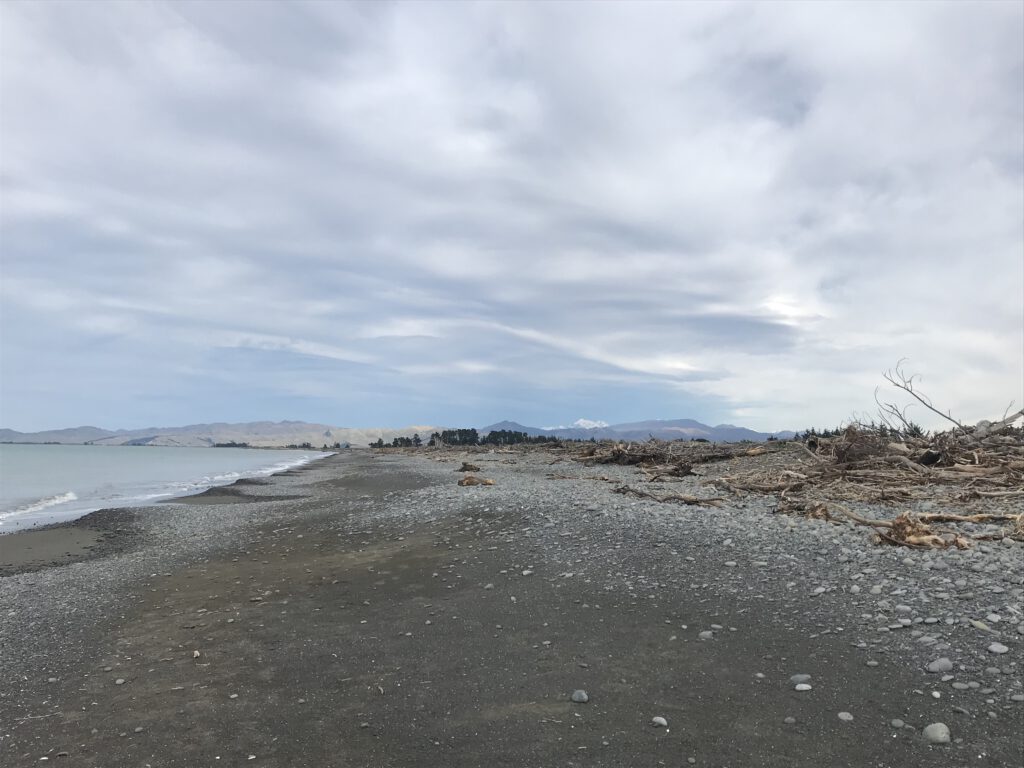 Saturday 6 August
Today we stay at home and clean the house for a bit. We also get behind our computers and arrange some things for the next visa and money stuff. Quite boring, but necessary. It's very cold today so we sit inside with both sweaters and a jacket on. Most New Zealand houses don't have any central heating system. We do have some electrical heaters but we try not to use them as it's quite expensive and we're just fine with some more clothes on. At night we have a lovely dinner at J & M, an older Dutch couple who moved here back in the 80's! It's great to talk to some other people and see their house. It's raining quite a bit and finding the road in the dark is not easy, but we manage to get back home safely.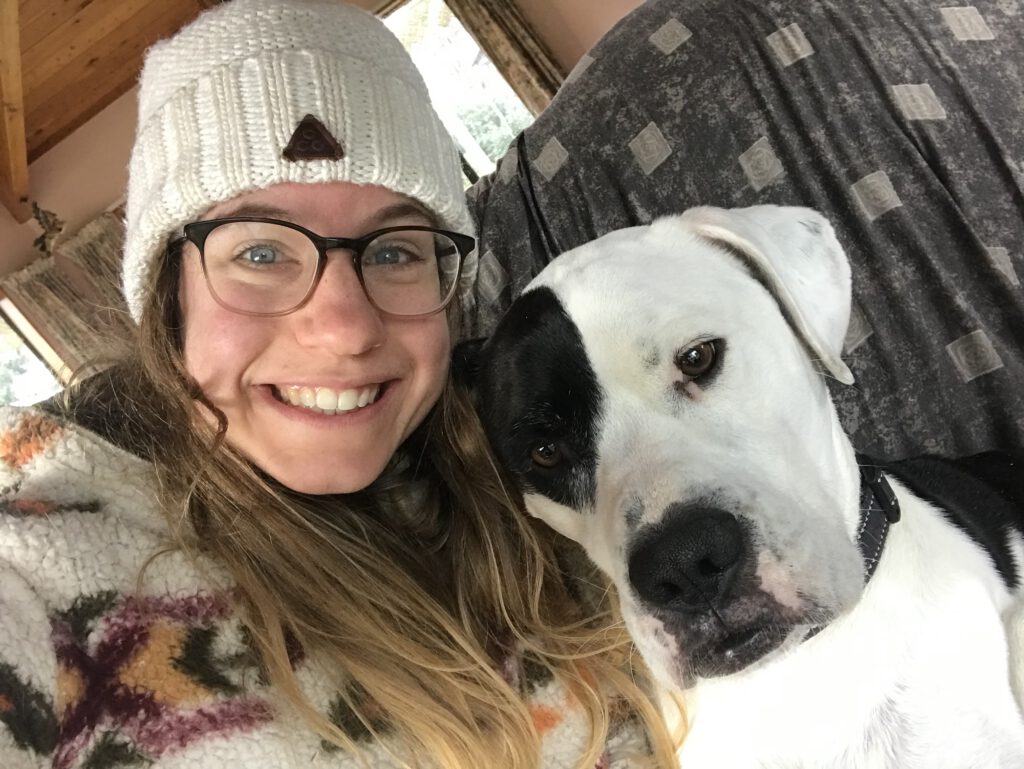 Sunday 7 August
In the morning we visit the Farmers Market in Blenheim. It's nice and sunny and we have a flat white in the sun. It's great to have a look around and just watch people. We buy quite some fresh vegetables from local farmers. They look delicious and we can't wait to start cooking with them.
The past few days we've been trying to fix two bikes to see if we can cycle anywhere. The houseowners, who are not home at the moment, have many bikes but most seem broken. After some struggles we finally have two bikes that work! We towards cycle towards the beach named Te Koko-o-Kupe (Cloudy Bay). From there we can see Te Moana-o-Raukawa / Cook's Straight. We even catch a glimpse of Te Ika A Maui / The North Island, and the bay which leads to Wellington (the capital of NZ). It's really cold again today! We're happy to be on bikes and it's fun to explore the area some more.